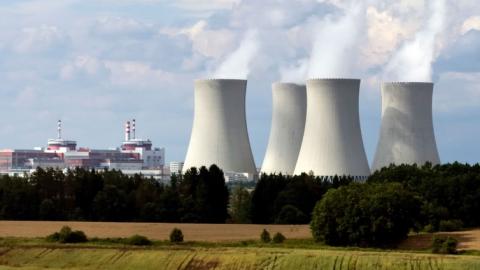 February 25, 2021 by
Matt McCracken
For disclosure purposes, we are long Uranium Participation Company (U.to), Cameco (CCJ), BWX Technologies (BWXT) and Denison Mining (DNN) as of the date of this post.  
CNBC posted excerpts of an interview today with Bill Gates talking about how he is betting on the nuclear energy trend.  In it he explains why nuclear power generation makes a lot of sense and is a good place to invest.  Here are a few quotes from Gates:
Nuclear energy will "absolutely" be policallly palatable.

...the need for clean energy is dire, and the operation of nuclear power plants produces no greenhouse gas emissions.

[N]ew innovations in nuclear technology (in which [Gates] is an investor) are making nuclear energy safer and more affordable, and countries around the world are starting to adopt nuclear power.

Nuclear has actually been safter than any other source of [power] generation.  You know , coal plants, coal particulate, natural gas pipelines blowing up.  The deaths per unit of power of these other approaches are - are far higher.
We have long been bullish on the nuclear story and have had considerable exposure for the past few years.  The uranium space is one area that is priced incredibly low providing a real value for investors.  And the long-term prospects, which the CNBC article addresses, are incredibly strong in our opinion.  China is currently building over 90 reactors.  Europe is increasing its already heavy reliance on nuclear.  
You name the trend (EVs, globalization, trade wars, and global warming) and they all are supportive of nuclear power.  While solar and wind are nice concepts, and hopefully we'll rely more heavily on them in the future, they are not dependable or cheap.  Nuclear power generation is highly dependable and very cheap. 
As I alluded to in the initial disclosure, we are currently long several uranium plays.  As of the writing of this post, I can say with some level of confidence that uranium is the second or third most prominent allocation in our portfolio.  With that said, our investment style is incredibly agile so we could liquidate much of our exposure in a matter of days.  
The following are our favored Uranium plays:
Cameco (CCJ) is probably the best known and most liquid uranium play.  It can be purchased on the NYSE and also on the TSE.  I believe CCJ is currently the world's second-largest uranium producer but they may still be first.  
Uranium Participation Company (U.to) is a direct investment in the actual commodity and managed by Denison Mining.  The security can be bought on the TSE under the ticker U.  I can also be purchased in the US using pink sheets but it is not as liquid.  I suggest buying it on the TSE if you're custodian will permit it. 
Denison Mining (DNN) is another play but it is a low-price stock.  When we bought it, it probably would have classified as a penny stock but now has appreciated some and is more liquid.  Another stock that falls into this category is Uranium Energy Corp (UEC).  We started buying UEC when it had a zero-handle but now it is trading north of $2 (we currently do not hold this position as we took profits in it but it is on our watch list.) 
A word of caution regarding ETFs claiming to have exposure to uranium such as NLR.   I have found most of these funds are invested in utility companies with little correlation to uranium prices.  For example, NLR's largest four holdings as of last year were all utility stocks.  Cameco was their fifth-largest position  (source: Morningstar).  There is nothing wrong with utility stocks but they do not provide direct exposure to uranium as individual stocks would.  So if your objective is to invest alongside Bill Gates (and us), then you may want to focus on individual stocks.